廠商資訊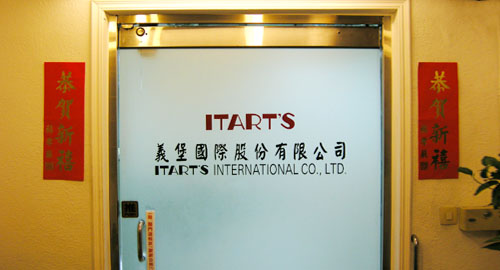 義堡國際股份有限公司
負責人:
陳慶輝
E-mail:
jeffchen@itartstw.com
聯絡電話:
886-2-25912780
傳真電話:
886-2-25933165
通訊地址:
台北市中山區中山北路三段45號7樓之1
公司網址:
http://www.itarts.com.tw
公司簡介
Welcome to ITART'S website. ITART'S, established in 1991, is a design-oriented company for home goods. We are specialized in home decorations, garden accessories, wall arts, frames and bath accessories. Our headquarters is in Taipei and we have an office and a polyresin factory in China.

Creation is our motto. We continue to create new designs to enhance our products and our customers' lives. We take sincerity and integrity as our core values for our business and management. We maintain close and solid relationships with our customers, and always team up with them for mutual benefits based on our competitive prices as well as quality products. Our persistence is paid off and our existing achievement serves an incentive for us to pursue excellence.

We have two showrooms – one in Taipei and the other in Shen-zhen, China. You are most welcome to visit us at either place for our new collections.

Sincerely,

ITART'S INT'L CO., LTD.
公司產品