Manufacturer Information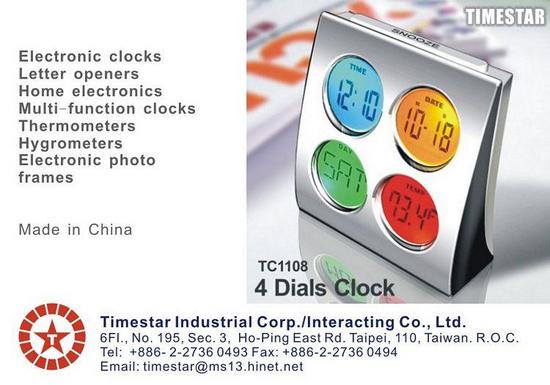 TIMESTAR INDUSTRIAL CORP.
Liaison Man:
MR. WU
E-mail:
Telephone:
886-2-28950301
Fax:
886-2-28950320
Address:
3F.-1, No.191, Sec. 1, Zhongyang N. Rd., Beitou Dist., Taipei, Taiwan
Web:
https://www.gift.com.tw/list_03.php?id=65
Company Intro
Timestar Industrial Co. has been astablished in 1983, specializing in Consumer Electronic field. The constant innovaive R&D as well as the strict quality control are our essential policy. Now we have successfully promoted our new developing articles such as the Digital Multi-function clock, Weather Station and Automatic letter opener etc.. to overseas markets mainly in Europe, America and Japan. Timestar will go in advanced, steadily and firmly with customer orientation. Welcome buyers and venders of overseas keep on all supports and cooperation for new concepts and ideas, relative services in full ranges should be shared the same as usual even that the best project will be carried out with the strongest R&D and management abilities.
Products