Manufacturer Information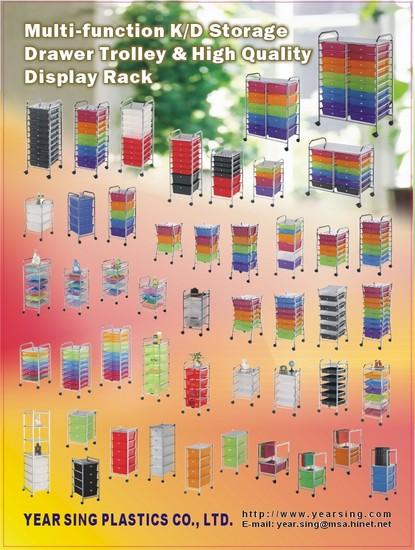 YEAR SING PLASTICS CO., LTD.
Liaison Man:
JACK HUANG
E-mail:
year.sing@msa.hinet.net
Telephone:
886-4-7761158
Fax:
886-4-7754184
Address:
No.60 Chuwei Lane, Shao-an Li, Lukang Township, Chuanghua County, Taiwan.
Web:
http://www.yearsing.com
Company Intro

YEAR SING PLASTICS Co., Ltd. was established in 1995, and the founder of Jack Huang came from Taiwan. The company situates in the Lukang Township in Chunghai Hsien with convenient transportation and geographic location.   
Our company currently has a factory with an area over 1,000 square meters and employs more than 30 people including 5 competent administrative staff, fully qualified personnel of high caliber.   
YEAR SING is one of the leading and most experienced manufacturers of DIY K/D DRAWER TROLLEY/ORGANISER, and we specialize in plastic trolley, display shelf, towel rack and bathroom stand. More than 20 years experience in producing those stands/racks/shelfs enables our company to have strong abilities to produce quality goods. In addition, all products are designed to meet customers' needs and requirements and are upgraded continuously and rapidly to follow fashion in various markets.   
Nowadays, with eight production lines, our main products are k/d drawer trolley/organiser, various practical & innovative clothes hanger with drawer, different style good looking toilet rack & display shelf, extendable & stackable shoe rack, multi-function towel rack, wooden trolley/stand, mini measurement PP rack etc……. We make efforts to create more space for human daily life, design new products and keep looking for improvement to satisfy our customers' needs. All products we commit to create are well known worldwide for the high quality.
Products