Manufacturer Information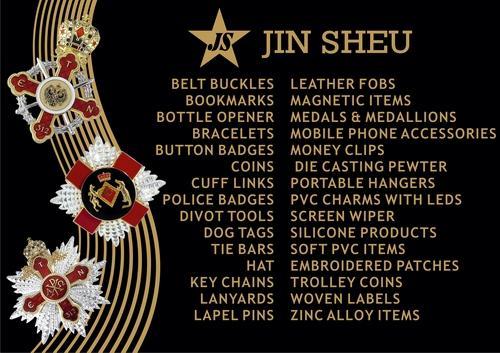 JIN SHEU ENTERPRISE CO., LTD.
Liaison Man:
Y.L. SHEU
E-mail:
Telephone:
886-2-22256766
Fax:
886-2-22256058
Address:
8F-9, No.502 , Yuan Shan Rd., Chungho Dist, New Taipei City , Taiwan.
Web:
http://www.jinsheu.com.tw
Company Intro

Jin Sheu Enterprise always offer our customers professional service, superior quality, fast delivery and follow-up service after each business transaction. With ERP system furnished in early 2002, we have shortened the distance and accelerated the communication between Mainland China and Taiwan. Since Factory expanded with more buildings, we have integrated all the products manufactured in the same location, which include lapel pins, key chains, medals, coins, belt buckles, pewter, and zinc alloy items as well as embroidered patches and lanyards. It's our responsibility to offer our customers topnotch service. We focus on our core field of business, managing factories efficiently and injecting new technologies and innovations to develop new products, seize opportunities to expand market share and keep ourselves and customers remain in the stream. We sincerely hope you can benefit from our whole-hearted contribution.
Products